BUSINESS SHIRT solutions
brought to you by Peter Taylor's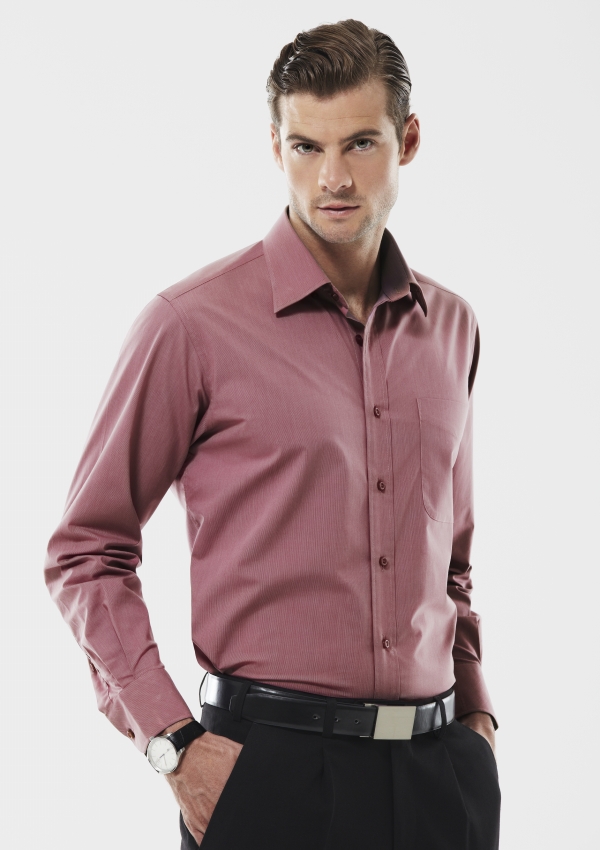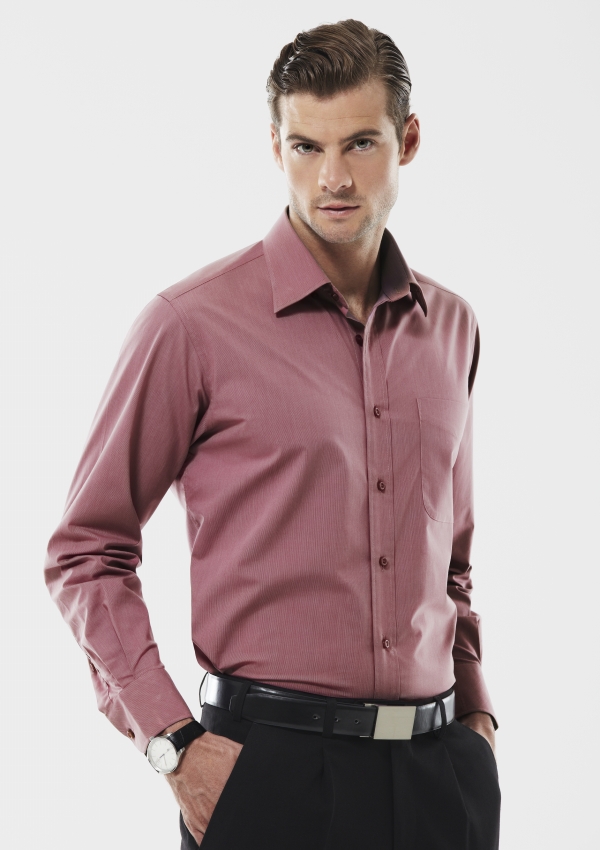 BERLIN
The wide stripe of the Berlin range gives a graphic edge to a modern classic.
With distinctive pleating and panel details these pieces lend a uniqueness to your corporate wardrobe without being over-powering or distracting. Available in a choice of three sleeve lengths for ladies with a coordinating tailored long sleeve business shirt for men.
A flexible colour palette of grape, graphite or blue stripes inject colour, whilst classic black or white keep the range grounded and fresh.
Added fabric stretch allows ease of movement, and easy care, cotton rich fabric keeps you looking sharp and ready for work.
Blue, Graphite, Grape, White, Black and Cherry
4% Elastane l 35% Polyester l 61% Cotton
Mens: S M L XL 2XL 3XL 4XL 5XL 6XL
Ladies: 6 8 10 12 14 16 18 20 22 24 26
CHEVRON
Ease and elegance are on offer with the fine striped Chevron range.
Timeless yet modern, the subtle stripe and soft panel details create an understated feel with our ladies range featuring a unique bib front feature, and our mens classic business shirt with twin back shoulder pleats for added comfort.
A contemporary colour palette repeated in Grape, Graphite, or Blue throughout the range allows for successful combinations of pattern and style, whilst maintaining your core uniform profile.
The added yarn stretch allows ease of movement, and our easy-care, cotton-rich fabrics ensure that these will be classic pieces you reach for everyday.
Blue, Graphite, Grape and now Cherry
70% Cotton l 26% Polyester l 4% Elastane
Ladies: 6 8 10 12 14 16 18 20 22 24 26
Mens: S M L XL 2XL 3XL 4XL 5XL 6XL
DECO
Ladies pleat top
A fashion forward, relaxed jersey top that offers a professional, coordinated alternative to our shirting options.
Our Deco knit is created with a series of folded pleats to add design interest and drapes beautifully to flatter a variety of figures. Made from a soft, easy-care stretch polyester Grape, Silver or Black this piece works equally well worn on its own or under a suit.
Black, Silver and White
100% Polyester
Ladies: 6 8 10 12 14 16 18 20 22 24 26
PARIS
Ladies wrap top
Flattering and feminine, our Paris knit is a classic long sleeved, wrap fronted top designed to enhance the figure from shoulder through to waist.
The fabric is superior in handle, with a wonderful stretch and return due to the added elastane. This fabric has just enough firmness to hold and flatter the sillouhette without clinging.
An excellent alternative uniform option, in a flexible style that can be worn tucked in or out.
Black and Graphite
95% Viscuse, 5% Elastane
Ladies: 6 8 10 12 14 16 18 20 22 24 26
RUBY
Ladies short sleeve blouse
Easy care 100% Woven Polyester
Centre back gathered pleat detail for movement
Buttoned sleeve opening with elasticated gathers for comfort
Waist and bust darts for shape
Curved hemline tuck it in or out
Ladies: 6 8 10 12 14 16 18 20 22 24 26
QUAY
Mens and ladies Hospitality shirt
Stretch easy care, Teflon stain release fabric
Black and Charcoal: 95% Polyester, 5% Elastane
Black/White: 93% Polyester, 5% Elastane, 2% Viscose
Yarn dyed stripe [Black/White only]
Mandarine collar with concealed button placket
Straight hemline with side splits for comfort
[Ladies 3/4 sleeve semi fit] waist and bust darts for shape
[Mens classic fit]
Ladies: 6 8 10 12 14 16 18 20 22 24
Mens: S M L XL 2XL 3XL 5XL
BROOKLYN
Mens and ladies roll-up sleeve shirt
63% Cotton, 32% Polyester, 5% Elastine

Ease of movement
CUBAN
Mens and ladies long sleeve stripe shirt
Red/Silver, Blue/Silver and Black/Silver
CUBAN
Mens and ladies short sleeve stripe shirt
Red/Silver, Blue/Silver and Black/Silver
MANHATTAN
Mens stripe and ladies stretch stripe shirt
METRO
Ladies stretch shirt
METRO
Mens Long and short sleeve shirt
NITRO
Mens and ladies shirt
LUXE
Mens and ladies premium cotton shirt
AMBASSADOR
Mens and ladies yarn dyed long sleeve stripe shirt
AMBASSADOR
Mens and ladies yarn dyed short sleeve stripe shirt
SIGNATURE
Mens and ladies yarn dyed long sleeve shirt
Dark Blue, Grape, Black and Graphite
SIGNATURE
Mens and ladies yarn dyed short sleeve shirt
Dark Blue, Grape, Black and Graphite
WINDSOR
Mens and ladies executive stipe shirt
BOSTON
Mens and ladies dobby woven shirt
NEW YORKER
Ladies yarn dyed stripe shirt
NEW YORKER
Mens yard dyed stripe shirt
BASE
Mens and ladies poplin shirt
EPAULETTE
Mens and ladies epaulette shirt
OASIS
Mens and ladies easy care shirt
CONTRAST OASIS
Mens and ladies easy care shirt
PRINTED OASIS
Ladies easy care shirt
MICRO CHECK
Mens and ladies yarn dyed check shirt
WRINKLE FREE CHAMBRAY
Mens and ladies long sleeve shirt
WRINKLE FREE CHAMBRAY
Mens and ladies short sleeve shirt
OXFORD CHECK
Mens long sleeve check shirt